First, create an account on Quoine and transfer some money to the wallet.
Then go to the API menu and create an API key with the following permissions : Account Read + Execution Read + Orders Read and Write.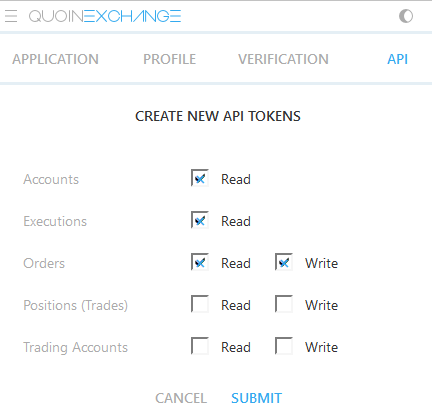 The above permissions ensure that this API key does not allow withdrawal nor trading.
Then, come back here and create an account (please choose a unique password).
Enter your Quoine API key and secret code in your account.
Select a strategy
Let Crypto Lend optimize the lending for you and enjoy the returns.
When you have enough, juste disable Quoine lending strategy, or disable your API key on Quoine.
Warning: Quoine loans don't have term. Your loans may have very long duration. Read Quoine lending FAQ.
For security reasons, our bot may delete your API keys in the following cases :
Wrong key or secret
Key disabled at exchange side
Key re-used from another bot
Account balance empty during a few days
No lending during a few days
To fix this issue: create a new key at your exchange and copy it here.